Dear Cookie Elf reader,



Welcome back to The Cookie Elf File! It's that time of year when we send you cookie recipes, cookie trivia and simple baking tips to give you easy ways to bake 12 days of Christmas cookies.

This year, we're sending you two recipes in each email to cut down on the mail in your inbox. Bookmark or pin these recipes so you can use them in your holiday baking.

---
Get the Baking Gadgets You Need at Year-End Sales
Spatulas, measuring gadgets, wooden spoons ... it's a great time to catch year-end clearance sales to get the gadgets you need in the kitchen! Take a look at the most popular and best-seling baking gear.

---
The Cookie Elf is on Pinterest
Join us on Pinterest! Browse our 80+ boards (and growing) for cookie inspiration and simple baking tips, like chocolate chip cookies, no bake cookies, cookie gift baskets -- even special treats like gluten-free cookies! Happy pinning!
---
12 Days of Christmas Cookies, Day 11: Everything Layer Bar Cookies - Easy Christmas Cookie Recipe for Kids and Families



Image: The Cookie Elf

Everything Layer Bar Cookies are an easy bar cookie recipe – and they are always a favorite.

Perfect for one of this year's 12 Days of Christmas Cookies!

Much like Magic Bars, you make these cookies in layers. But this recipe has a twist. You bake the bottom layer first. Once it has set, you remove the baking pan from the oven and add the other layers.

And we all know from the name of the recipe that the toppings include all the good stuff in your baking pantry: chocolate, nuts, and dried fruit.

Prep time: 10 minutes
Bake time: 40 minutes, divided
Makes 35 bars



Get the full Everything Layer Bar Cookies recipe… and check out our Bar Cookies Pinterest board for more easy bar cookie recipes.
---
12 Days of Christmas Cookies, Day 12: Crock Pot Candy - Easy No-Bake Recipe to Make at the Last Minute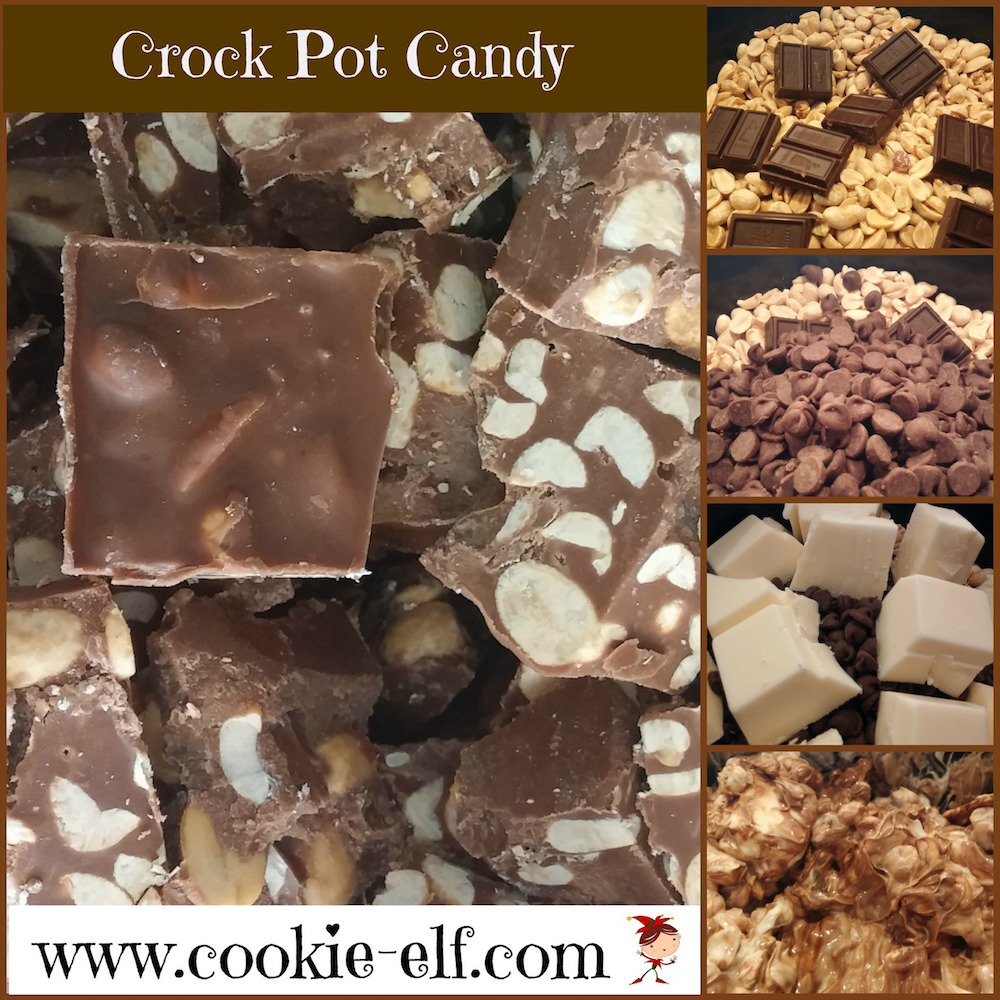 Image: The Cookie Elf

Not really a cookie, but it's cut like one! Crock Pot Candy is mixed together in (you guessed it!) your crock pot.

You leave it and forget it for about an hour. Then come back, stir it, let it cook for a few minutes more, pour it, let it set … and voila, you have an a-m-a-z-i-n-g confection.It's a super easy recipe (your 6-year-old can make it) and yields a LOT.

That's one reason it's a good one to use to make gifts for teachers, neighbors, family members or to take to a party as a dish to pass.

Because if you make it and keep it, you'll probably eat it all yourself.

Prep time: 5 minutes
Bake time: 70 minutes
Makes about 60-120 pieces



Get the full Crock Pot Candy recipe… and check out our No-Bake Cookies Pinterest board for more easy no-bake cookie recipes you can make for Christmas.
---
Easy Dessert Recipes for the Holidays – Free
If you're looking for easy dessert recipes for the holidays, look no further! 20+ easy holiday recipes guaranteed to please – and the price is right, too: free with Kindle Unlimited or just $2.99.Read about it here.

---
Cookie Baking Tip: Don't Overheat Chocolate
Image: The Cookie Elf
See more helpful cookie baking tips on The Elf's Baking Tips Pinterest Board .
---
Don't Just Scrape By!
More Easy Christmas Cookie Recipes

That's it for now. See you next time!

Happy baking,

Kathy, The Cookie Elf
www.cookie-elf.com