Dear Cookie Elf reader,



Welcome back to The Cookie Elf File! About once a week, The Elf sends you an easy cookie recipe or simple baking tips for baking homemade cookies.
The Cookie Elf is on Pinterest!
Join us on Pinterest! Browse our 80+ boards (and growing) for cookie inspiration and simple baking tips, like chocolate chip cookies, no bake cookies, cookie gift baskets -- even special treats like gluten-free cookies! Happy pinning!
Feature: Peanut Butter Krispie Balls: Easy No-Bake Cookie Recipe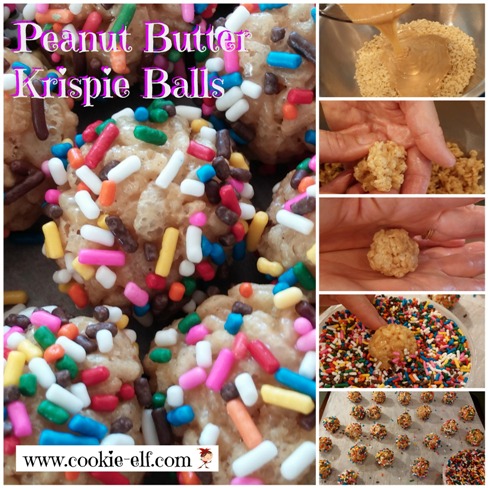 Image: The Cookie Elf

Peanut Butter Krispie Balls are a variation of Rice Krispie Treats, the classic no-bake cookies. The originals are made with crisp rice cereal, marshmallows, and melted butter.

This version includes peanut butter. It also differs slightly in its formation – this recipe is for a molded cookie rather than a bar cookie. The mixture is shaped into balls and rolled in colored sprinkles. It is an easy cookie recipe is perfect for kids to make. As an added bonus, the cookies are gluten-free!

Mixing time: about 10 minutes
Molding time: 15-30minutes
Makes 3-4 dozen cookies

Get the full recipe for Peanut Butter Krispie Balls. And you can see other Rice Krispie Treat variations on our Rice Krispie Treat Variations Pinterest Board.
---
Cookie Baking Tip of the Week: Hints for Molding Smooth Cookie Balls by Hand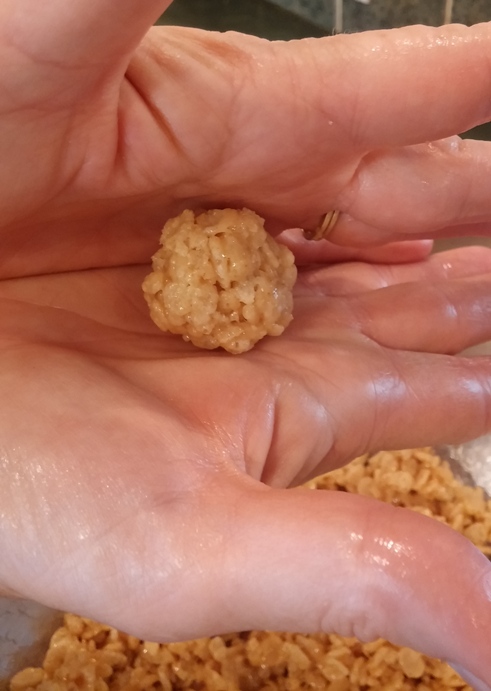 Image: The Cookie Elf

When you shape a cookie by hand into balls– particularly when it comes to no-bake cookies – a the mixture can be sticky. Try these tips to shape cookie dough into balls neatly and cleanly.
Use a cookie scoop, ice cream scoop, or melon baller to measure even, consistent amounts of cookie dough.
Spray the scoop with vegetable spray to prevent sticking.
Wet your hands to keep dough from sticking.
Roll scooped cookie dough in between your wet hands in a circular motion until cookie is firm and smooth.
Drop smooth cookie in topping.
See more helpful and interesting tips for baking cookies on our Cookie Baking Tips Pinterest board .
---
More Fun and Easy Rice Krispie Treat Variations

That's it for now. See you next time!

Happy baking,

The Cookie Elf
www.cookie-elf.com