Dear Cookie Elf reader,



Welcome back to The Cookie Elf File! About once a week, The Elf sends you an easy cookie recipe and simple baking tips for baking homemade cookies.
The Cookie Elf is on Pinterest!
Join us on Pinterest! Browse our 80+ boards (and growing) for cookie inspiration and simple baking tips, like chocolate chip cookies, no bake cookies, cookie gift baskets -- even special treats like gluten-free cookies! Happy pinning!
Feature: Halloween Cookie Pizza – Fun and Easy Cookie Recipe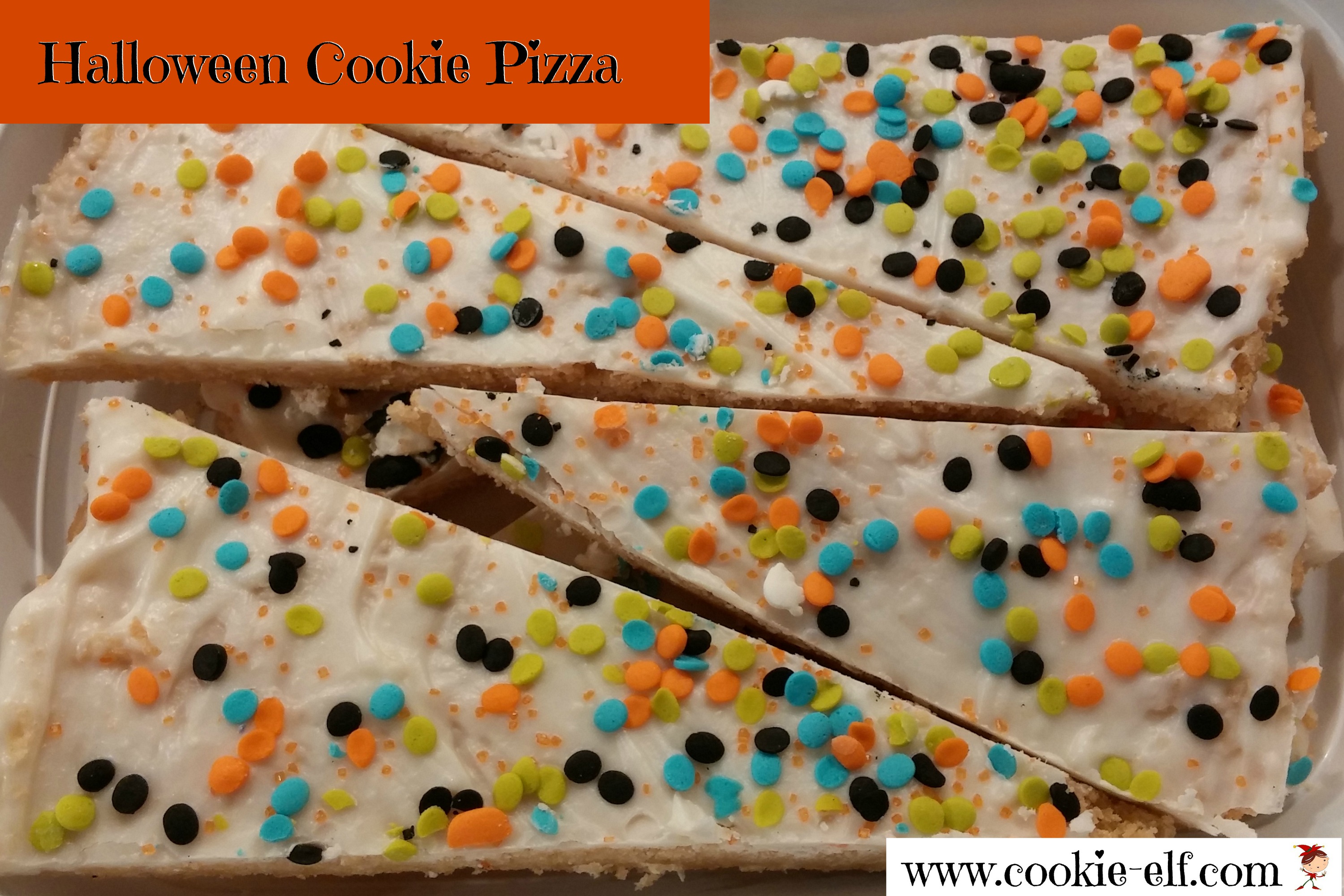 Image: The Cookie Elf

Halloween Cookie Pizza is a fun and easy cookie recipe that's a sweet variation on traditional pizza … one you can adapt for any holiday. Decorate the pizza with sprinkles (as pictured here) or candy corn or even autumn-colored sugars like red, orange, and yellow that are appropriate for this time of year. Cookie Pizza is a perfect treat to make for Halloween parties!

Prep time: about 10-15 minutes
Bake time: 15 minutes
Cooling time: 60 minutes
Makes 8-20 wedges.

Get the full recipe for Cookie Pizza and get more ideas for easy cookie recipes on our Easy Cookie Recipes Pinterest Board.
---
Cookie Baking Tip of the Week: Hints for Using Candy Coating as Icing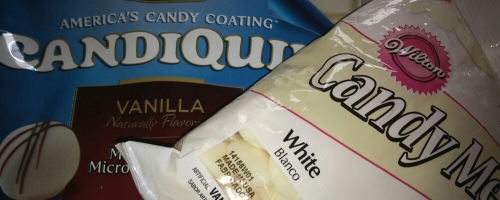 Image: The Cookie Elf
Candy coating products (like Wilton's Candy Melts® and CandiQuick from Log House®) are used to make candy, drizzle over desserts, create sweet dips, and coat cake pops. Once the candy product is melted and applied to the cake, cookie, or dessert, it hardens easily. Sprinkles and decorations adhere readily.
That's one reason why candy coating products are useful as "icing" on Cookie Pizza – candy is easy to use and leave a firm shell, so cookie pizza surfaces are not sticky.
Use these tips for best results with candy coating products:
Follow directions on packaging for melting. Most often, melt on half power (50%) at 30 minute intervals, stirring after each interval.
Do not over heat candy coating.
Do not add liquid to candy coating. You can thin the consistency by adding 1 teaspoon of vegetable shortening or vegetable at a time, stirring thoroughly.
Use gel, powdered, or other oil-based food coloring to tint candy.
Use oil-based candy flavoring to alter candy melt taste.
Store leftover candy coating product in a cool, dry place. Do not refrigerate or freeze.
Candy coating products are available in several different flavors and colors. Find them in the baking aisle of your grocery stores. See more helpful and interesting baking tips on The Elf's Baking Tips Pinterest Board .
---
More Easy Cookie Recipes to Adapt for Any Holiday

That's it for now. See you next time!

Happy baking,

The Cookie Elf
www.cookie-elf.com