Dear Cookie Elf reader,



Welcome back to The Cookie Elf File! About once a week, The Elf will send you a favorite cookie recipe, complete with a list of ingredients and instructions. The Elf also includes baking tips to help you bake and enjoy homemade cookies in your own kitchen ... the easy way.
The Cookie Elf is on Pinterest!
Join us on Pinterest! Browse our 60+ boards (and growing) for all kinds of cookie inspiration and practical information, like chocolate chip cookies, no bake cookies, cookie gift baskets -- even special treats like gluten-free cookies! Happy pinning!
Cookie Recipe of the Week:
Cranberry Almond Biscotti -- the easy way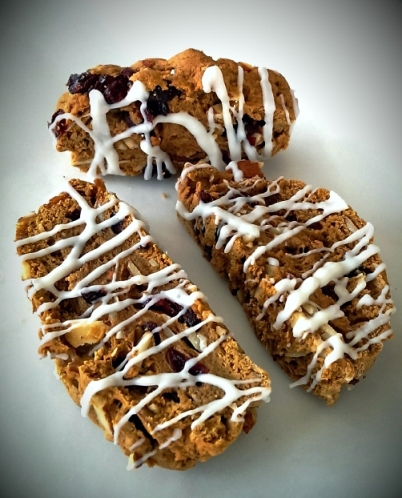 Image: Cranberry Almond Biscotti from The Cookie Elf

Biscotti, meaning "twiced-baked" in Italian ("bis" meaning "twice" and "cotto" derived from "cooked"), have become the most popularized Italian cookie recipe beyond the country's borders. Dough is formed into loaves, baked until golden brown, sliced, and then baked again. Traditionally made with almonds so are readily available in Italy, biscotti are also flavored with chocolate, hazelnuts, spices, and dried fruits – as in this recipe.

The big secret is that making biscotti is easy. Cranberry Almond Biscotti incorporate dried cranberries and sugar substitute in a fresh version of these traditionally almond-flavored Italian cookies.


Cranberry Almond Biscotti


Prep time: 20 minutes
Bake time: 40 minutes, divided
Makes about 30-32 cookies


Get the full recipe for Cranberry Almond Biscotti. Plus be sure to check out our Biscotti Pinterest board and Italian Christmas Cookie Pinterest board for more inspiration.
---
More Easy Cookie Recipes from Around the World
That's it for now. See you next time!

Happy baking,

The Cookie Elf
www.cookie-elf.com