Lemon Wedding Cookies:
Just 7 Ingredients
Lemon Wedding Cookies are a light, tangy variation of traditional Mexican Wedding Cake Cookies.
The more traditional and much-loved Mexican variety makes regular appearances on holiday cookie trays – maybe even yours – with names like "Snowballs" or "Russian Tea Cakes." But this lemony, lighter version is a refreshing departure during the spring and summer.  
You can bake them for weddings (of course) and bridal or baby showers. Or perhaps just make them whenever you get the urge,  so you don't have to wait until once a year to indulge. Spoiler: they're perfect with iced tea or lemonade!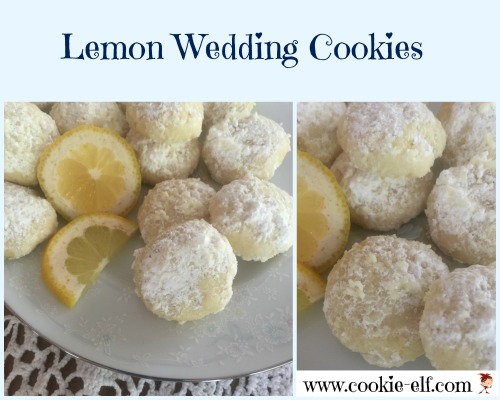 Prep time: 20-30 minutes
Bake time: 9-11 minutes
Makes about 4 dozen cookies
Ingredients
1 cup butter, room temperature
1 cup powdered sugar, divided
2 teaspoons vanilla extract
1 tablespoon lemon zest
3-5 drops yellow food coloring (optional)
1 ¾ cups all-purpose flour
1 package (3.4 ounces) lemon instant pudding mix
½ teaspoon salt
Directions for Lemon Wedding Cookies
Preheat oven to 350º F. Line baking sheets with parchment paper or silicone mats.
In a medium bowl, combine flour, pudding mix, and salt. Set aside.
using an electric mixer on medium speed, cream butter and ½ cup sugar until light and fluffy, scraping the bowl continually, about 1-2 minutes.
Reduce speed to low. Add vanilla extract, lemon zest, and optional food coloring. Gradually stir flour mixture into creamed mixture a bit at a time until well blended, scraping the bowl constantly.
Scoop cookie dough into teaspoon-sized balls and roll them in between the palms of your hands until smooth. Place the balls in 2 inches apart. Press each ball slightly so that it is shaped like a disc.
Bake cookies for 9-11 minutes. Do not overbake.
Pour remaining ½ cup powdered sugar into a medium bowl or onto a dinner plate.
Remove baking sheets from the oven. Allow cookies to sit for a minute or two on the baking sheet to firm slightly. Use a slotted spatula to lift cookies from the baking sheet and set them in the powdered sugar. Turn the cookies so they are completely coated with powdered sugar.
Transfer cookies to a cooling rack. Allow them to cool completely. Store in an airtight container with waxed paper between layers.
Special Baking Tips for Lemon Wedding Cookies
If cookie dough is soft – whether from a warm kitchen or because butter has been allowed to thoroughly soften before mixing – you can divide it in two, wrap each ball in plastic wrap, and set it in the refrigerator to firm for an hour before forming cookies.
Use a slotted spoon or slotted spatula to lift the cookies from the powdered sugar, allowing the excess sugar to sift through the slots.
See more inspiration on our Lemon Cookies Pinterest board.
More Wedding Cookies Recipes
Mexican Wedding Cookies recipe: not just for weddings!
Treasure Cookies: a Mexican Wedding Cake Cookies variation ...
Triple Chocolate Kisses: meringues with 3 kinds of chocolate ...
Cherry Kisses: a surprise in the middle ...
Return from Lemon Wedding Cookies to The Cookie Elf home