Cherry Coconut Cookies: Colorful, Fun Drop Cookies
Cherry Coconut Cookies are flavored with maraschino cherries, which are best known as a topper for ice cream sundaes or as a garnish in cocktails.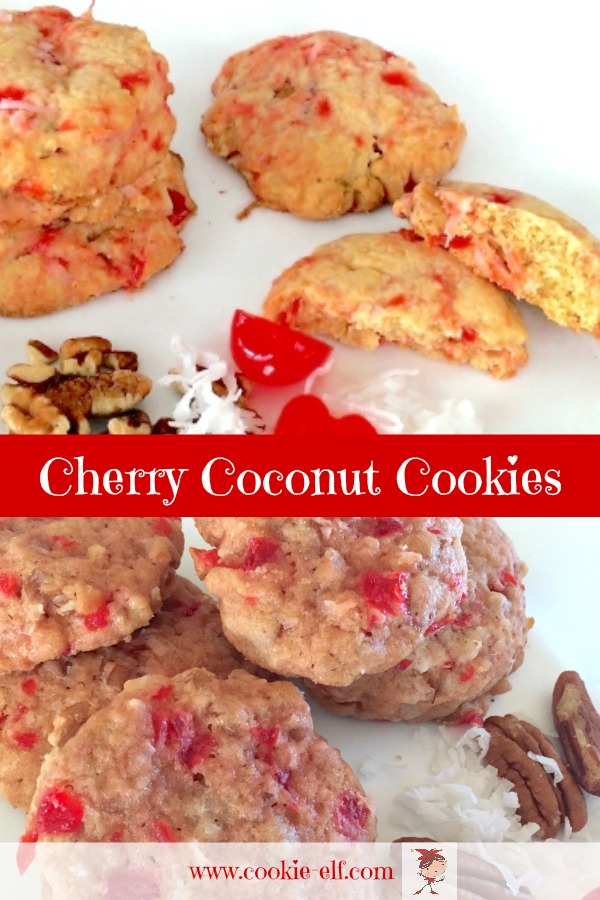 Maraschino cherries are bright red, flavored with sweetener and almond flavoring, and processed in sugar syrup. When chopped and added to cookie dough with coconut and pecans, the cherries add color.
And yum.

Honestly, I'd like to kiss the feet of the person who thought to add them to cookie dough.
This simple recipe is a lot like other drop cookie recipes, but the combo of cherries, coconut, and pecans is simply FUN.

Prep time: 15-20 minutes
Bake time: 9-11 minutes
Makes about 3 dozen cookies
Ingredients
¾ cup (1 ½ sticks) butter or margarine, softened
1 cup firmly packed brown sugar
1 egg
2 tablespoons milk
1teaspoon vanilla extract
2 cups all-purpose flour
½ teaspoon baking soda
½ teaspoon salt
8 ounces maraschino cherries, well-drained and chopped
½ cup sweetened flaked coconut
½ cup chopped pecans
Directions
Preheat oven to 350º F.


In a medium bowl, combine flour, baking soda, and salt. Set aside.


In a separate bowl, with an electric mixer on low speed, cream together butter and brown sugar until light and fluffy. Add egg, milk, and vanilla, scraping the bowl constantly and beating until smooth.


Gradually stir in dry ingredients into creamed mixture, beating just until well blended.


Mix in maraschino cherries, coconut, and pecans by hand with a wooden spoon. Dough will be thick.


Drop dough in rounded teaspoons onto ungreased baking sheets, about 2 inches apart. With the heel of your hand, gently press each mound lightly into a rounded disc.


Bake for 9-11 minutes until cookies are just set or light golden around the edges. Remove cookie sheets from the oven.


Allow cookies to sit for 5 minutes before using a spatula to transfer them to a wire rack. Cool completely.


Store cookies in an airtight container.
Special Cookie Baking Tip for Cherry Coconut Cookies

Before mixing together the dough for Cherry Coconut Cookies, set the maraschino cherries in a colander and allow them to drain thoroughly. Chop the cherries by hand or with a food processor on pulse. Return the chopped cherries to the colander to drain before adding them to the cookie dough.
More Easy Cherry Cookie Recipes

Cherry Bonbon Cookies: a sweet surprise in the middle ...
Cherry Kisses: low-fat meringues that melt in your mouth ...
Fran's Cherry Chocolate Chip Cookies ...
More Easy Drop Cookie Recipes

Almond Crunch Cookies: easy cookie recipe from Bake-Off #30 ...

Apple Walnut Drop Cookies recipe: use just 1 apple for whole recipe!

Chewy Lemon Cookies: Tart and Sweet, Just 8 Ingredients ...

Chocolate Oatmeal Drop Cookies: Two Favorites in One ...

Cinnamon Toffee Pecan Cookies: just 6 ingredients ...
Easy Oatmeal Cookie Recipe: Simpler Than a Mix ...
Maple Oat Chewies: Drop Cookies and Bake-Off #32 Favorite ...
Peanut Butter Oatmeal Cookies: Two Great Tastes in One ...
Pecan Sandies: a cross between a drop cookie and shortbread ...

White Chocolate Chip Cranberry Cookies: easy drop cookie recipe ...

Zucchini Cookie Recipe: good to eat and good for you ...

Return from Cherry Coconut Cookies to The Cookie Elf home