Bar Cookie Recipe: Christmas Cookie Bars
These Christmas Cookie Bars combine two holiday colors white and red to evoke symbols of the season. White chocolate chips and coconut resemble snow, dried cranberries resemble holly berries, and pecans round out this flavorful ingredient combination, adding a festive look to your Christmas cookie platter.
Prep time: 15 minutes
Bake time: 25-30 minutes
Makes 24-36 bars
Ingredients
½ cup (1 stick) butter or margarine
1 ½ cups graham cracker crumbs (about 10 large graham crackers)
1 ½ cups white chocolate chips
1 ½ cups dried cranberries (or Craisins)
1 cup sweet flaked coconut
1 cup chopped pecans
1 (14 ounce) can sweetened condensed milk
Directions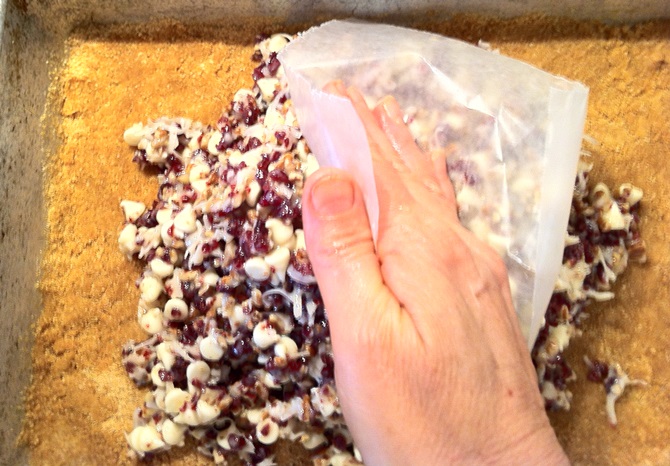 Preheat oven to 350º F (325º F for a glass dish).


Spray the sides of a 13 x 9 baking pan with baking spray. (This will prevent bars from sticking to the sides of the pan.) Cut margarine into the pan. Set the pan in the heated oven to melt.


Remove the pan from the oven. Sprinkle graham cracker crumbs over melted margarine. With a spoon, combine margarine and crumbs until they are well mixed. Use the back of the spoon to press the mixture evenly into the bottom of the pan.


Place dried cranberries in a food processor. Pulse with steel blade until moderately chopped. Add in pecans and pulse the berries and nuts together until the texture is well minced.


In a medium sized bowl with a large spoon, mix together white chocolate chips, chopped cranberry mixture, and coconut. Pour sweetened condensed milk evenly over mixture. Mix together until chocolate, fruit, and nuts are thoroughly coated.


Spoon fruit and nut mixture over graham cracker crust. Press down evenly with a wooden spoon or a piece of waxed paper.


Bake bars 25-28 minutes until lightly browned. Remove the pan from the oven and allow it to cool completely on a wire rack. Cut into bars.


Store bars loosely covered at room temperature.
A Special Tip from The Elf
If you prefer your barsto have a chunkier surface texture, you can combine cranberries and chopped pecans directly with the white chocolate chips and coconut without mincing them first in the food processor. Chopping creates a smoother texture on the cookie surface.
More Yummy Christmas Cookie Bars Recipes

Almond Toffee Bar Cookies: easy "back-of-the-bag" recipe ...

Bar Cookie Recipe: Magic Bars ...

Cake Mix Christmas Bar Cookies: just 6 ingredients ...
Can't Leave Alone Bars: easy cake mix cookie recipe ...
Cherry Oatmeal Cookies Recipe: Bar Cookies With Just 4 Ingredients ...

Chocolate Chip Oatmeal Caramel Squares from Pillsbury Bake-Off #37...
Chocolate Toffee Bars: easy, elegant bar cookie recipe ...
Christmas Magic Cookie Bars: an easy Christmas bar cookie ...
Cookie Pizza: fun and easy cookie recipe for any holiday ...
Cranberry Caramel Date Bars: a luscious, rich bar cookie ...
Cranberry Walnut Squares: holiday bar cookie recipe ...
Everything Layer Bar Cookies: chocolate, nuts, dried, fruit ...

Lemon Bars: tart and sweet in one bar cookie ...
Raisin Bar Cookies: easy filled bar cookie recipe ...
Viennese Walnut Layer Bars: layered mocha and walnuts ...
Return from Christmas Cookie Bars to The Cookie Elf home