Cream Cheese Brownie Cookies: Easy Chocolate Cookie Recipe - Just 6 Ingredients

Cream Cheese Brownie Cookies combine the richness of chocolate and cream cheese to produce an unusual chocolate drop cookie. The flavoring is deep and rich and the texture is just like a brownie.
But this cookie recipe is deceptively simple! There is little measuring involved, thanks to the stick of butter, the cream cheese, the egg, and the brownie mix – all pre-packaged.

In fact, the only ingredient you need to measure is the tablespoon of cocoa powder (and please feel free as The Elf does, to eyeball that.)
The only challenge you may face with this recipe is the thick dough. You'll need to use an extra spoon to help remove the cookies from the scoop.
And beyond that, be warned. These cookies are rich!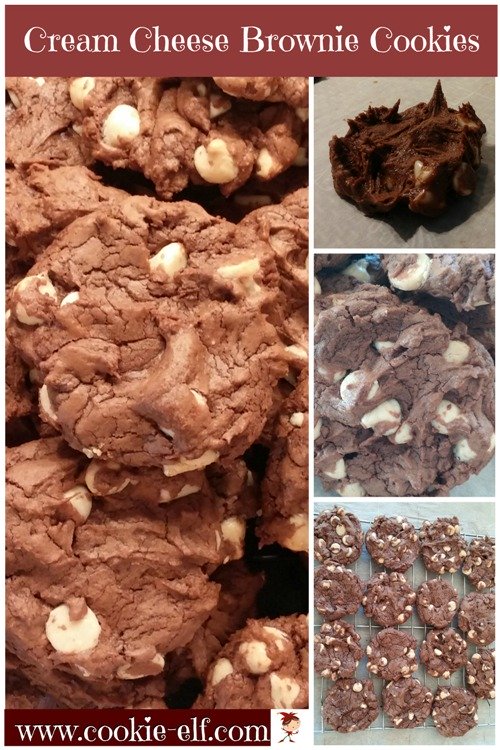 Prep time: 5-10 minutes
Bake time: 10-13 minutes
Makes about 2 dozen cookies
Ingredients
½ cup (1 stick) butter or margarine, room temperature
4 ounces cream cheese (half an 8-ounce block), softened
1 egg
1 brownie mix (18 – 20 ounces), any brand
1 tablespoon cocoa powder
2 cups (12 ounces) vanilla or white chocolate chips
Directions for Cream Cheese Brownie Cookies
Preheat oven to 350º F. Line baking sheets with parchment paper. Set aside.


In a medium bowl, with an electric mixer on low speed, cream together butter and cream cheese until combined well, about 2 minutes. Add egg. Continue to beat mixture until smooth.


Add brownie mix and cocoa powder slowly until all dry ingredients are incorporated.  Cookie dough will be thick.


Use a large spoon to stir white chocolate chips into cookie dough.


Use a cookie scoop, ice cream scoop, or kitchen teaspoon to drop cookie dough in rounded teaspoonfuls onto prepared baking sheets, about 2 inches apart. Use your fingertips to slightly spread each cookie so that it resembles a disc rather than a mound.


Bake cookies for 10-12 minutes until cookies are just set. Do not over bake. Remove baking sheets from the oven.


Allow cookies to sit for 5 minutes before using a spatula to transfer them to a wire rack. Cool completely.


Store cookies in an airtight container with waxed paper in between layers.
Special Baking Tips for Cream Cheese Brownie Cookies
Cream Cheese Brownie Cookies have a thick, cake-like texture, much like brownies themselves. As with brownies, be careful to moderate baking time so as to not over bake or under bake them.
Test bake 2-3 cookies before baking the entire batch. Drop cookie dough in mounds on a baking sheet and press tops lightly to create an even layer. Bake cookies for lower amount of time. Lightly touch the surface of the baked cookie to see if it springs back. If the surface remains indented, bake another minute – or centers may remain under baked.
See our Chocolate Cookies Pinterest Board for more inspiration.

More Chocolate Drop Cookie Recipes from The Elf

"Black Gold" Chocolate Cookie recipe ...
Chocolate Coconut Cookies: rich chocolate drop cookie ...
Chocolate Crinkles: easy cake mix cookie recipe ...
Chocolate Macadamia Nut Cookies: fudgy, rich drop cookie ...
Double Chocolate Peppermint Cookies: 2 flavors, double chocolate ...
Hot Chocolate Cookies: Better Than Cocoa ...

Triple Chocolate Kisses: meringues made with 3 kinds of chocolate ...
Kinds of chocolate to use in chocolate cookie recipes ...
What chocolate substitutions can I make in cookie recipes?
More Brownie Recipes from The Elf

About Brownies - America's Favorite Bar Cookie ...

Chocolate Caramel Brownies: a variation of Turtle Cookies ...
Easy Brownies: simpler than using a mix ...
Easy Milky Way Brownies: Two Easy Brownie Recipes in One ...

Frosted Chocolate Brownies: decadent chocolate brownie recipe ...
Marshmallow Swirl Brownies: fudgy, gooey, and easy-brownie variation ...
One Bowl Brownies: a favorite back-of-the-box recipe ...
Return from Cream Cheese Brownie Cookies to The Cookie Elf home